Centro De Intercambio y Solidaridad (CIS)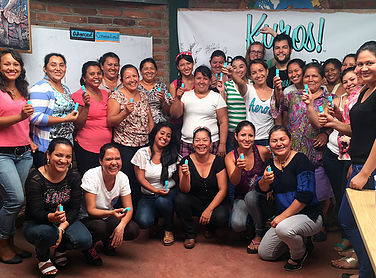 For distribution in Central America we partnered with Centro de Intercambio y Solidaridad (CIS) based out of San Salvador, El Salvador. With a network reaching all over the country, we are able to get pepper spray into the hands of women both in the major cities as well as the rural areas and mountain communities.​
CIS was founded in 1993 after the signing of the Peace Accords in El Salvador. Solidarity groups from the United States, Canada, and Europe came together with Salvadoran popular organizations to develop a center to promote people-to-people relations after the war. The root causes of the war - economic and social injustice together with a lackof democratic openings to make change - were still present. It wasagreed that continued international accompaniment and solidaritywith grassroots movements for social and economic justice andparticipatory democracy would be needed to achieve structuralchanges in the post war period. The CIS mission is to promotesolidarity and cultural exchange across borders between theSalvadoran people and others in the search for developmentand dignity. CIS works to promote and strengthen a culture ofsolidarity that implies accompaniment, respect for equalityof different cultures, and mutual support between people.CIS focuses on using different strategies to promote asolidarity that creates the space for grassroots organizingfor justice and dignity.